SEO Services from
Recode:

Turn Traffic Increases Into Revenue
Start with a leading SEO provider — and we have the track record to prove it. With our Powerful Syndication technology platform and elite SEO team, Recode can help increase your bottom line with an SEO campaign that is specifically designed for your business. Start earning more qualified search traffic to your website today with our search engine optimization services.
Leads Generated to our clients
Digital Marketing & SEO Experts
Search Engine Optimization Plans
Boost your website to attract and retain qualified organic traffic. Our SEO packages include a combination of proven SEO tactics.
The most obvious goal of SEO is to drive traffic to your website, but even more important is attracting the right visitors. A sound organic search strategy will help improve your conversion rates, not just pageviews.
It's time to upgrade your SEO!
Our SEO packages are a cost-effective and efficient solution to low rankings and organic traffic. Each six-month plan includes a dedicated project manager, comprehensive SEO Audit, and monthly block of hours for SEO tasks. We prioritize our recommendations to make the most impact and ensure your resources are not wasted with trial and error.
"Recode has provided us with excellent SEO support, including website audits, keyword research, and content creation, Especially with their Powerful Syndication Technology. This effort has helped our overall organic traffic increase by 156% year-over-year."
Jenny Martins
"From ROI standpoint, Our Google AdWords campaign's performance improved about 200% within the first 3 months we began working with Recode."
Steven hess
How it Works?
Our SEO packages include everything you need to improve your organic visibility.
---
Discovery
We begin with a detailed intake survey and discovery session with your team.
We learn about your business offerings, goals, and target audience, as well as your team's capacity.
This allows us to focus on the optimizations that will have the greatest impact on your rankings and traffic.
Visibility Audit
Our experts perform a comprehensive Visibility Audit of your website.
Our Visibility Audit includes a review of traffic quantity and quality, technical SEO, content optimization, backlinks, mobile-friendliness, and analytics.
We also look at your top competitors' websites to see how yours stacks up.
Audit Report
We present our findings and recommendations to your team.
We score each area audited, so you know what elements of your site are effective and what are not.
We break down our recommendations into prioritized task lists for your team, so you'll know exactly where to focus your resources.
---
Optimization
Our experts work closely with your team to tackle the issues identified.
The monthly hours included in your plan will be allocated for our work on specific SEO tasks.
This includes activities, such as keyword research, on-page SEO, 301 redirects, and content improvements, as well as general consultation.
Monthly Updates
All along, we keep you informed on your gains in digital visibility.
Once a month, we provide a custom report that is tailored to your business goals.
You'll get a complete picture of your website's improvements in search that all levels of your organization can understand.
6-Month SEO Checkup
You'll clearly see the improvements to your rankings and traffic after six months.
After six months, we recheck key areas of your website, such as traffic, rankings, and indexation.
Using your Visibility Audit scores as a benchmark, we clearly show the return on SEO Upgrade efforts and your website's gains in digital visibility.
Our Unique Approach to SEO
You'll get more qualified leads from your website when you work with a team of digital marketing experts who put your business goals ahead of generic tactics. We work closely with your team to define your marketing goals before beginning a comprehensive and proprietary audit of your website. This Visibility Audit includes a review of:
Unlike the auto-generated recommendations of other SEO audits, our unique process uses industry-standard applications and your own Google Analytics and Search Console data to glean deeper insight into your website's performance.
Using this information, our SEO team makes recommendations specific to your industry, goals, and website. You get a comprehensive report detailing our findings, recommendations, and best practices. We break down our findings into an easy-to-follow prioritized task list, which we use to guide our ongoing SEO work to reach your business goals.
Polish it!
Find & fix the issues that undermine your SEO.
Tune it!
Improve your rankings, increase qualified traffic.
Make significant gains in your search performance.
Selecting a full-service SEO agency is no easy task — choosing a good SEO company is even harder. It's tough to find a company you trust with something as valuable as your web presence, but, there are a lot of great firms out there!
If you're now wondering how to choose an SEO company, don't worry. We've done the research on how to choose the right SEO company.
How do companies choose an SEO company? In our review interview and data collection process, one of the questions we ask is, "What was your selection process, and why did you select this company to work with?"
While not highly scientific, we were able to categorize these qualitative responses into a few main buckets. (Note: Some respondents stated more than one reason.)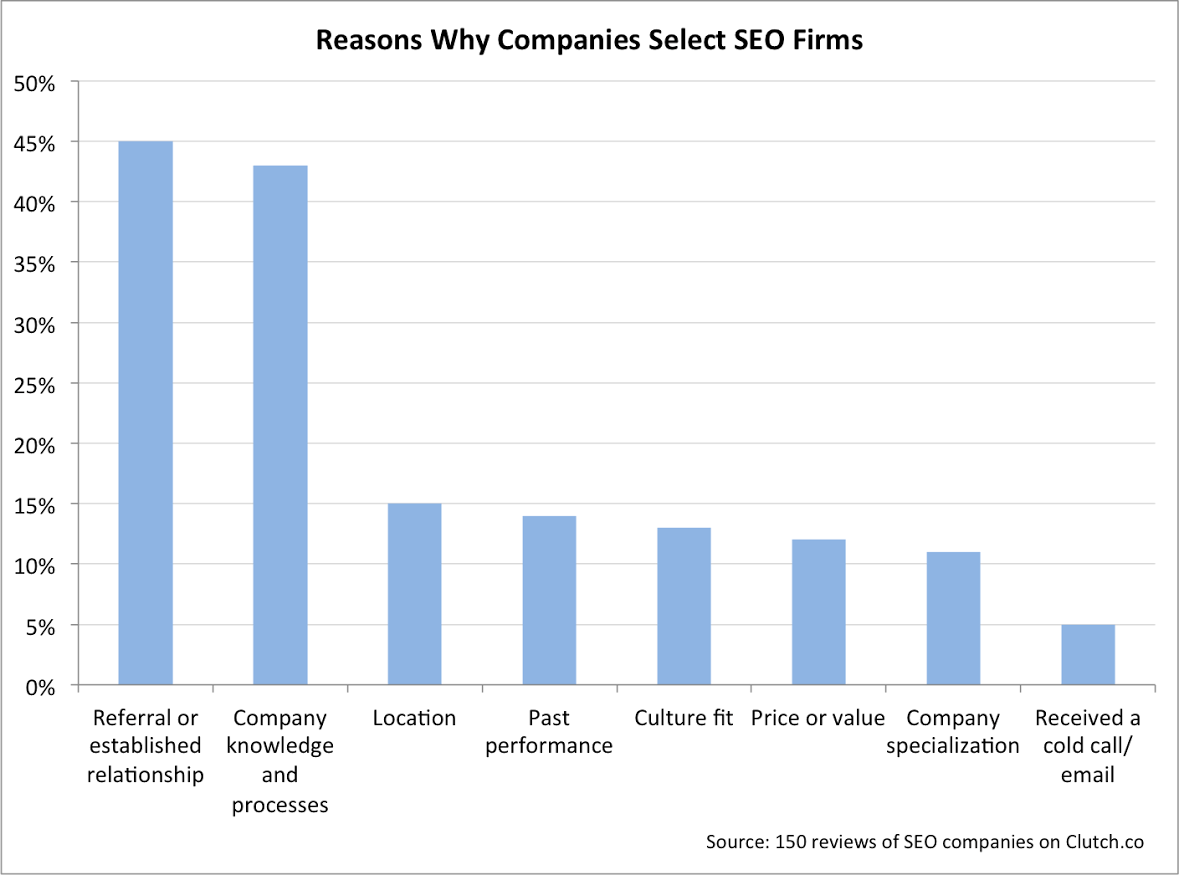 Factor 1: Referrals and previously established relationships
Referrals and previously established relationships turned out to be a key reason, cited by 45% of reviewers. This makes sense, as companies may not be experienced with SEO services, and they, therefore, rely on the experiences of friends and colleagues they trust.
Factor 2: SEO company knowledge and processes
The second-largest factor in choosing an SEO company is company knowledge and processes.
This includes customer service, thought leadership, staff experience, reporting, and transparency. These are all attributes that can help make a company successful for their clients, as they were mentioned by 43% of reviewers.
Factor 3: Case studies, client references, and online reviews
Closely related to company knowledge and processes, past performance includes specific evidence, such as case studies, client references, and online reviews, all of which indicate previous success. About 14% said this was a deciding factor in their decision.
Today, organic search results drive more than 50 percent of website traffic, which is why more businesses are taking another look at search engine optimization (SEO) and SEO management for growing their revenue and company.
Whether you're familiar or new to SEO, this post provides all the information you need to get started with building an SEO strategy or investing in professional SEO management services.
What is SEO?
SEO, also known as search engine optimization, improves your visibility in relevant search engine results pages (SERPs) on search engines like Google, Yahoo!, and Bing. It uses an umbrella of strategies and techniques to boost your visibility, which can result in increased website traffic.
What is SEO management?
SEO management can refer to your company or your agency's management of your SEO strategy. As a part of SEO management, your team or agency develops, leads, and modifies your strategy to maximize your results and achieve your marketing, sales, and business goals.
If you partner with an agency, your business may sign with a specialized agency, like a local SEO company or full-service digital marketing agency.
As many internal marketing departments handle multiple responsibilities and don't have a background in SEO, it's common for businesses to invest in professional SEO management services. A recent study, for example, revealed that 55 percent of companies partner with an SEO agency.
Whether your business partners with an agency or manages your strategy in-house, it's essential to understand what SEO management includes. That way, you can build a foundation for a competitive strategy that actually drives revenue for your company.
4 steps towards successful SEO management
If you want to create a successful SEO strategy, then you need to succeed at SEO management. Even if you partner with an experienced SEO agency, like Recode, it's helpful to understand how SEO management works.
The four steps behind successful SEO management include:
1. Audience research
Companies that excel at SEO have an in-depth understanding of their audience. They've done the research and understand what their target market wants from their business, product, or service. These companies also know the common questions and problems of their target audience.
If you want to succeed at SEO management, you need to understand your target market at this level.
Invest your time researching your target market, and answer the following questions:
What problems does my product or service solve for users?
What issues does my target market have with other providers?
What demographic features define my target audience?
Where does my target market go when they have problems or questions?
Even if you have marketing personas developed for your target audience, it helps to reevaluate your past research. Consumers can change over time. If you use outdated marketing personas, it can cause your SEO strategy to flop, which doesn't help you or your company.
Once you have your audience researched, you can take the next step towards launching your plan.
2. Competitor analysis
A competitor analysis can offer tremendous insight, which is why it's a core part of SEO management. Whether you're partnering with an SEO agency or leading the initiative in-house, make a competitor analysis part of your plan.
For competitor analysis, it's helpful to look at the following competitor types:
Direct competitors: These are businesses you compete with offline and online. You probably already have a list of direct competitors to reference. Now, you want to look at their online presence and investment in SEO.
Indirect competitors: These are companies you compete within search results. For example, two manufacturing businesses may compete for the search term, "local manufacturing companies," even though they produce different products.
As a part of your competitor analysis, you want to determine the organization's SEO strategy. In some cases, you may find that a direct competitor doesn't have an SEO strategy. That's where indirect competitors can help as most owe their high ranking in search results to SEO.
Learn about a company's SEO strategy by looking at the following:
Backlink profile
Domain age
Optimization practices
Traffic value
Targeted keywords
For many businesses, this step is a challenge.
If you're new to SEO, it introduces several aspects of technical SEO, which is where the expertise of an SEO agency like Recode becomes valuable. With the experience of our team, we can quickly assess the status of your direct and indirect competitors.
Plus, we have access to a variety of tools to streamline this process. In comparison, in-house SEO management (and department budgets) can limit your team. These limitations can have a direct impact on the quality and results of your competitor analysis, which can influence your SEO strategy.
3. Website optimization
With your target market and top competitors researched, your company can begin the process of optimizing your website for search. This process can take time, so approach this task with realistic checkpoints or goals.
For example, if you have 25 pages on your site, it's probably not feasible for your team to optimize all those pages in a month. You have additional responsibilities to manage, though some companies solve this problem by taking advantage of website SEO copywriting services.
This service, which Recode offers, provides your business with on-brand copy optimized for SEO. Even if your company uses this service, it's important to remember that results still take time. Publishing your optimized content sooner, however, can help you see those results earlier.
If you optimize your content in-house, focus on using your targeted keyword in a few places:
Title tag: A title tag displays in search results. It's the title of your page and should hook readers, encouraging them to click on your website. Your title tag should also use your targeted keyword
Meta description: A meta description also appears in search results. It's the description of your page and expands on your title to motivate users to visit your site. Like your title tag, your meta description should also feature your targeted and related keywords.
Headings: Your headings display on your page, dividing your content into organized sections. For the best results, you should use your keywords throughout your headings. In some cases, though, you may not for readability purposes
Images: A page should feature helpful images for users. Images can improve the readability of your page, plus reader understanding of complex topics. The image filename, as well as image alt text, should use your keyword if it makes sense.
Content: Your page's content provides readers with what they're looking for, whether answers to product questions or overviews on services. Within your paragraphs, it's crucial to use your keywords naturally for readability.
When you optimize your content, it's essential for your team to follow SEO best practices. That means avoiding keyword stuffing, for example, and other black-hat tactics that can prevent your business from ranking at the top of search results.
4. Monthly reporting
Like other digital marketing strategies, SEO uses data. With data from your website, you can measure your SEO strategy's performance. Plus, you can find areas of improvement and make data-backed decisions when it comes to your next move.
If you partner with an SEO agency, like Recode, you can expect monthly reports from your dedicated account manager. In some cases, you may want to monitor your SEO strategy on a weekly basis, which you can with our team.
Even if you decide to bring your SEO management in-house, you want to establish a routine schedule for checking and measuring your strategy's performance. A monthly or weekly basis is the industry's standard, which is why many businesses follow this schedule.
As a part of your monthly reporting, try looking at increases in the following areas:
Organic traffic
Rankings in search results
Backlinks
Conversions
You can use tools like Google Analytics, Google Search Console, and Ahrefs to monitor your progress.
Depending on your business, you may find it challenging to track the full results of your SEO strategy.
With professional SEO management, you can resolve this problem. Recode, for example, features a proprietary marketing software suite, Powerful Syndication
, that includes a call tracking tool. This tool allows you to track calls generated by your website, which makes monitoring your SEO results hassle-free.
No matter how you approach reporting, whether with the expertise of an agency like Recode or the resources of your in-house team, make reporting a part of your SEO management. It can inform and improve your strategy, as well as demonstrate its value to company decision-makers.
You've heard about SEO enough times to ask, "What does SEO mean?"
SEO stands for search engine optimization (SEO). In business and marketing, SEO is the practice of improving your online visibility in organic search results to increase the quantity and quality of your website traffic.
Overall, this digital marketing strategy aims to generate revenue and growth for your company through increased online visibility.
Ready to learn more about SEO's definition and get answers to some of the most common SEO questions, like "What does SEO do?" or "What does SEO mean in business?" This mini-guide covers the top seven things every marketer and business owner should know about SEO, plus includes a bonus FAQ that answers questions about SEO's cost and more.
Just keep reading to get started!
7 Must-Know Facts About SEO's Meaning
Definition
Strategies
SERPs
Tactics
Benefits
Results
Updates

1. SEO stands for search engine optimization


When someone mentions SEO, they're referring to search engine optimization. If you adopt SEO marketing, you optimize your website for search engines, which can range from Google to Bing. You're optimizing your site for not only search engines though, but for people too.
With a well-optimized site and competitive SEO strategy, your business can earn a top spot in search results, also called search engine results pages (SERPs). For the best results, your company wants to appear in searches related to your products or services.

2. SEO consists of an umbrella of strategies


The "optimization" part of SEO encompasses an umbrella of strategies. You can optimize your website in dozens of ways since search engines like Google rely on more than 200 factors to determine the rankings of sites in search results.
A few of the most trusted ways to optimize a website for search engines and users include:



Designing a website that's easy-to-use and fast
Creating site content optimized for specific keywords or search phrases and user intent
Writing compelling and informative meta descriptions and title tags for pages
Fixing broken site links
Publishing website images with a relevant filename and descriptive alt tag
Earning valuable links to site content from reputable and relevant websites

As you can see, SEO relies on an entire team of specialists. You need web developers and web designers, as well as copywriters. Not to mention, you need a savvy SEO expert that can lead your strategy and guide your team.
That's why many businesses invest in SEO services, which provide your company with immediate access to SEO professionals. A full-service agency, like Recode, offers an even bigger advantage, as we include a dedicated team of developers, designers, copywriters, and SEO specialists.

3. SEO focuses on organic, not paid search result rankings


Answers to "What does SEO mean?" aren't complete without talking about organic and paid search results. Remember, SEO helps your business earn more visibility in search results. It's important to mention, however, that SEO only targets organic search results.

In search results, many search engines include paid and organic search results. A paid search result is an ad promoting a business and its services. That's why searches with a purchase intent, like "hvac emergency services" tend to feature ads.

You may even see ads for navigational searches, like in the example above. Businesses can also create ads that target a competitor's brand name, like "QuickBooks" or "TurboTax." Overall, pay-per-click (PPC) advertising offers many companies a new strategy for promoting their goods.

While paid ads appear first in search results, it's still valuable to earn a top spot in organic search results, which follow paid search results. That's because paid ads aren't free. When someone clicks on your ad, you pay for it.

In comparison, you pay nothing when a person clicks on your site in organic search results. Not to mention, 70 percent of clicked search results are organic. That means most users click on organic search results, rather than paid ones.

That doesn't mean PPC advertising isn't useful.

It's an excellent digital advertising tool, as well as a strategy that supports SEO. You can use PPC, for example, to give your company immediate visibility in search results, which is helpful because SEO takes a few months to show results.

Even better, you can use data from your paid ad campaigns to inform your SEO strategy. PPC advertising, for example, provides keyword data or the terms used by searchers. This keyword data can help your company determine which keywords to target in future content for your site.

If you're thinking about SEO, also consider the potential value of a short-term PPC campaign.

4. SEO includes black- and white-hat tactics

Companies that adopt SEO can use black- and white-hat tactics.

Just because you can, however, doesn't mean you should. That's because black-hat tactics hurt, rather than help your SEO strategy. They can also cause extensive, long-term damage to your website's ranking capabilities and online reputation.

A few examples of black-hat tactics include:
Stuffing a page with keywords, hurting its readability
Including hidden text, like white text on a white background, to target keywords
Buying links from other websites, like link farms
In comparison, white-hat tactics allow your company's website to rank in relevant search results. They provide your business with that must-needed visibility in search results because they adhere to SEO best practices.
Some examples of white-hat tactics include:
Writing readable content that provides users with the information they want
Creating quality, shareable content that earns links from reputable sites
Adding fresh content on a routine basis
Maintaining usability and functionality of website
Improving speed or page load time of site
With white-hat tactics, your business can appear at the top of relevant search results. You also avoid the penalties that come with black-hat tactics, like a ban from search engines like Google. Meaning, Google will not include your website in search results.
As Google claims more than 90 percent of the search market share, you want to avoid that scenario.
5. SEO matters because of modern shopping habits
If you're pitching SEO to company decision-makers, it's critical to present compelling evidence that demonstrates its value. You want to show that SEO matters, as well as offers value to your business. It's also essential, as a part of understanding what SEO means, why it matters to organizations.
People, from businesses to consumers, shop differently today.
Instead of heading to a brick-and-mortar store, many use their phone, laptop, or desktop to search for products, ask questions, read reviews, and more. In fact, 80 percent of shoppers do product research online. Not to mention, more than half of users discover a new company or product after a search.
For consumers and businesses, search engines are a critical part of their path to purchase.
If your company doesn't appear in search results, you don't exist. Even if your business does appear in search results, a spot on page two, three, or four makes your company invisible to most users. That's because only 25 percent of users move past the first page of search results.
For businesses today, that is why SEO matters.
Whether you're an ecommerce store or brick-and-mortar shop, you can use SEO to make users aware of your business. That awareness can translate into consideration and conversion, which means a new sale or lead for your company.
To put into perspective the power and usefulness of SEO, look at the successes of our clients.
With SEO, as well as other digital marketing strategies, we've helped our clients earn more than $1.5 billion in revenue in the past five years. That's tremendous, and it's allowed our clients to pursue a variety of goals, from opening a new location to launching a new product or service.
6. SEO takes months to show results
What does SEO mean? For many, it means an ongoing and financially rewarding commitment.
A lot of businesses invest in SEO and expect immediate results. Whether you're optimizing existing website content or launching a brand-new set of pages, your company won't see changes in your rankings overnight.
That's because SEO takes time. In many cases, it can take up to several months for your team to see a change in your rankings. A few factors, like your website's age and history with Google, can shape your company's timeline.
An older website with zero penalties from Google, for example, may see results sooner than a brand-new site. No matter your website's age and history, however, you will have to wait a few months to see results.
SEO is worth the wait, though.
It delivers excellent results, which is why 75 percent of businesses invest in SEO already. With our SEO strategies, for example, we've helped our clients earn more than 4.6 million leads, 1.9 million phone calls, and more.
7. SEO continues to change in response to algorithm updates
Search engines like Google aim to provide the best possible experience to users. That's why search engine algorithms, which shape organic search result rankings, continue to undergo updates. These updates directly influence today's SEO strategies and tactics.
If your company adopts SEO, you need to take an active role in remaining up-to-date on SEO. You can follow blogs, take courses, run workshops, and more to keep your team at the forefront of SEO strategies.
Search engine optimization (SEO) famously consists of multiple qualities, and one of the most important is off-page factors. Off-page SEO includes essential SEO factors to ranking well in search engines, like backlinks, and they're huge parts of any digital marketing strategy.
However, for people who are new to Internet marketing, "off-page SEO" might not make any sense at all.
So, what is off-page SEO? Below, you'll find a couple important facts that can help clarify the importance of off-page SEO while explaining what off-page search engine optimization means.
What is off-page SEO?
Off-page SEO, also known as off-site SEO, describes optimization techniques that can improve your ranking in search engine results pages (SERPs). These techniques, however, happen outside of your site and involve attracting links from other websites, shares on social media, and mentions across the web.
Off-page SEO vs. on-page SEO
Off-page SEO is when your website is mentioned elsewhere on the web, and on-page SEO is the optimization of your website.
Off-page SEO is an effort (such as through social media marketing or influencer marketing) to generate links and ratings, so your site rises in credibility and rank. Off-page SEO is out of your control.
On-page SEO is the optimization of items on your website (such as keyword optimization and internal linking), so you can rank higher for the keywords you target. On-page SEO is within your control.
The most significant difference between on-page and off-page is that Google uses your on-page SEO to measure your page's relevancy and your off-page SEO to measure your page's credibility.
Make sure that you are implementing both strategies. Your on-page SEO is what makes your off-page SEO strategy successful.
Why does off-page SEO matter?
Off-page SEO is tremendously valuable because it tells search engines that your website is important to others on the web. Every link that you receive acts as an endorsement from another source that your website is quality.
This lets external sources act as tie-breakers for websites that have the same quality of on-page SEO so search engines know the best to rank websites on search engine results pages (SERPs).
For example, if we look at two wedding websites with similar content, which site would rank higher?
If the sites use similar on-page SEO strategies, off-page SEO signals can help determine which site ranks higher in search results.
Search engines like Google measure off-page SEO factors, like the number and quality of backlinks to websites.
If one of the wedding websites has more backlinks from reputable sources, while the other site has received zero online mentions, the site with more backlinks (and better online reputation) will likely rank higher.
Using numerous off-page and on-page SEO factors, search engines determine how valuable pages are to searchers' queries and return relevant results accordingly.
Just remember — a page without off-site optimization is like a wedding without invitations. It'll become a no-show.
3 types of links for off-page SEO
Links are a critical component to off-page SEO. Before you start building or earning backlinks, it's essential to understand the different types of links, as well as the factors that influence the equity of a link to your website.
The three types of links include:
Natural Links
A natural link comes to your website naturally.
Your team doesn't take any action or conduct any outreach to earn the link. The person writing that content decided to link to your content, whether because they follow your brand or discovered your content via search.
Either way, they found your content valuable and worth highlighting.
Built Links
A built link comes to your website from outreach.
Your team worked to earn this link, whether by reaching out to webmasters, publishers, or journalists. You may have even promoted the content with an ad campaign, providing it with the exposure that helped people uncover the content.
Even though you built this link, you still created valuable content for users.
Created Links
A created link comes to your website from self-submissions on directories, forums, or press releases.
Your team created this link intentionally and without conducting any outreach. This off-page SEO tactic for link building tends to register as a black-hat SEO practice because search engines look down on this kind of link building tactic.
When building links, focus on natural or built links.
6 factors that influence link value for off-page SEO
You also want to think about the equity or value and authority passed by a link.
While you could attract dozens of low-value links from spammy or untrustworthy websites, they won't help your business rank well in search results. That's why it's essential to focus your off-page SEO link building efforts on trusted websites with excellent link equity.
The six factors that influence the equity passed by a link include:
The anchor text used to link to your site
The freshness or age of the link to your site
The number of links on the linking page
The relation between the linking site's subject matter and yours
The trustworthiness of the linking site
The authority of the linking site and the linking page
If you use tools like Ahrefs, SEMrush, and more, you can assess the potential link value of a site.
How to do off-page SEO for your SEO campaign
Now that we've established how important off-page SEO is to a website's success, we can delve into the specifics of how to improve off-page SEO.
1. Link building
The most popular technique of off-page SEO is backlinking, which aims to generate natural links to your page.
Getting reputable websites to link back to your website has two main benefits: driving traffic to your site and helping determine your rank. Links from reputable sites are hugely beneficial to your website.
These benefits occur because links are the primary way to navigate the internet. Links improve your users' experience. With links, your users can easily navigate to other information they find relevant.
Links are also the simplest way to measure the expertise, authority, and trust of a site. That's why Google includes links as a part of search ranking factors.
But how do you convince others to link to you? You can try any (or all) of the following off-page search engine optimization strategies to start.
Join an association. This could be an industry association, or the local Chamber of Commerce. Make sure that your company gets a link on the association's website.
Create quality content. Making high-quality blog posts, infographics, videos, and more are all excellent ways to draw clicks and natural links to your site. Basically, if it's interesting, they will come.
Reach out. Reaching out to journalists and bloggers as possible sources for their writing, or asking them to host something you've created, provides future opportunities for you to earn links to your website.
Share on social media. Promoting your content on social media can help it gain traction. Post appropriate content, like infographics, blog posts, and more, to social media channels. Optimize your posts for discoverability too, like by using hashtags on Twitter.
Some links have more weight than others. For example, links from influencers in your audience's community have much more authority than links from spam sites.
Those high-quality links will tell Google that you've earned the recognition — that your site knows its material — and Google will rank you higher.
To make sure that your off-page SEO strategy is performing up to par, regularly check your backlinks. You can use tools to analyze your and your competitors' backlink profiles. Some of our favorite backlink tools are:
Ahrefs
Moz Link Explorer
SEMrush
Buzzsumo
Ubersuggest
When implementing your off-page SEO strategy, don't just know how to build links, understand why you're building them. You're building them so you can have a more significant presence and reach the people that you think your services and products could help.
What does content have to do with off-page SEO?
You might have all the best off-page techniques in the world, but they won't mean a thing if you don't have quality content. Content is what keeps users on the page, and if it's not valuable to your audience, they won't stick around.
With enough links, you might be generating lots of traffic, but that traffic will never turn into conversions if there is nothing worth looking at on your page. Your content is where you convince your audience that you have all the answers!
If we continue with the wedding analogy, your content is the food at the wedding. It's what keeps your guests around till the end.
So, an essential part of any off-page SEO strategy is to have good content to help catch users when they land on your page.
2. Blogging
Blogging is an excellent way to start generating linkable content for your brand.
There's no other place on the web with a constant stream of long-form content than blogs.
On your blog, your audience can comment and share your content, making it easier to get noticed and start generating natural links and brand mentions.
And with the continuous posts, you'll become a knowledgeable leader in your industry. Your audience will look to you first for information about recent updates and trends, as well as how-to guides and informational articles.
Talk about generating loyalty!
3. Social media marketing
While social media links don't impact rank, social media sites are still some of the best places on the web to generate awareness for your brand.
Brands with a strong presence on social media feel open and approachable, which is something that is becoming increasingly important today for businesses.
If a brand is not easily approachable, not only does it come off as abrasive, its trustworthiness comes into question when users can't easily access information about it.
Instead of appearing as some aloof entity, let your brand come across like a friendly, neighborhood corner store.
You can do that by staying active on social media sites and by starting a blog where you can let your audience get a feel for your brand's flair.
Also, generate content that is relevant and easy to read, and respond positively and sincerely to comments on both your blog and social media pages. Doing this will help your brand feel like a group of people instead of a robot.
4. Influencer marketing
How can off-page SEO influence online opinions?
Because of the emphasis on links as a method of accomplishing off-page SEO, many people tend to assume generating links is the goal of off-page SEO.
The real goal of off-page SEO, however, is to boost ranking so that people can find, contact, and purchase from you. Off-page SEO will create positive engagement with your brand, whether that be through links, reviews, social media, or brand mentions.
Off-page SEO can be tricky, though, because those methods are ones you can't control, not without being considered black-hat, and no one wants to wear a black hat.
There's no surer way to plummet your brand's credibility — or your rank — than with black-hat SEO methods like paying employees to post positive reviews or buying links to your site.
And since you can't control off-page SEO in the same way that you can control the on-page elements of your site, off-page SEO can turn into a frustrating waiting game where all you can do is hope the response from your audience is positive.
If it's negative, reevaluate your SEO strategy. See what's working, tweak what's not.
One of the ways you can combat negative reviews is by:
Implementing changes that will resolve the valid concerns of those negative reviews
Reaching out to your customers, asking them for a review after a purchase
By doing these two things, you'll improve your products and services and generate more reviews.
Reach out to online influencers as well. By having someone well-known endorse your brand, you'll boost your audience's trust like no other.
5. Writing for publications
Writing for external publications is a great way to show that you're an authority in your industry while also promoting your own business's service. This kind of publicity gives you huge potential for attracting customers that otherwise may not have heard of you. Plus, it can give you a portfolio of writing that you can show to other publications to start writing for them, and so on.
6. Social bookmarking
Social bookmarking is the process of submitting your content to sites like StumbleUpon, Tumblr, Reddit, and others. These sites segment their content to appeal to certain niches, which you can use to appeal to customers in the specific demographics that you want to target. Before you submit any content, though, make sure to research the audiences and rules of each site.
You don't want to spam these communities. Instead, you want to offer actual value with your content.
What is on-page SEO? It's a component of SEO that focuses on optimizing elements on your website, like page speed and keyword density, versus factors outside your website, like backlinks.
What is on-page SEO?
On-page SEO refers to any optimization that you control and include on your website. With on-page optimizations, you aim to make your website more usable and valuable to users to improve your rankings or visibility in search results on Google, Bing, and other search engines.
Why do on-page SEO?
On-page SEO leads to higher search rankings, increased traffic to your site, and more conversions. The results of on-page SEO take time, but once your on-page SEO strategy gets off the ground, it can make your online rankings and sales soar.
What on-page SEO ranking factors should I optimize?
With on-page SEO, you have several different ranking factors. You want to optimize all these factors. Taking the time to optimize each of these factors will improve your rankings in search results and make your website more competitive and difficult to beat.
On-page optimization factors you should focus on include:
URL
Title tag
Meta description
Heading tags
Alt tags
Keywords
Content
Speed
Internal linking
Images
Mobile-friendliness
Example of some on-page SEO action items include:
Optimizing your title tags and meta descriptions
Writing in-depth, quality content
Cleaning up your site's code
Streamlining your site's navigation
Speeding up your website
Keep reading to learn how to do on-page optimization for each of these on-page SEO factors!
How to optimize for on-page SEO
Now that you know what factors influence your on-page SEO, you can start optimizing them. Remember, it will take time to optimize your site, as well as see the results from it. Following best practices for these factors, however, will help you create a website that can endure algorithm updates.
URL
What is a URL? Your URL is like an address, but for a page on the Internet.

URLs for your website's pages should include brief descriptions of the page's topic.
For example, if you have a page about dog daycares in Daytona Beach, a good URL for that would be www.yoursite.com/dog-daycares-in-daytona. Or, if you have multiple locations, you may use the following format: www.yoursite.com/locations/daytona/dog-daycare.
Including your keyword in your URL instead of a long string of jumbled numbers also makes your site easier to navigate and gives people a better idea of your page topics.
Which of the following URLs would you rather visit, for example?
https://www.example.com/category/subcategory/keyword.html
https://www.example.com/125typu4f5ww56fifl6639j875fe.html
Use clean, organized URLs — like the first example above — to improve your site's architecture and help you rank higher in relevant search results.
Title tag
What is a title tag? Your title tag is your page's title, but it only appears in search results.

In order to show your website in search engine results pages (SERPs), Google has to know what your page is about. Using specific keywords in the title tag of each page (<title>, </title>) makes it easier for search engine crawlers to understand your website.
For example, if you're targeting the keyword, "dog daycare daytona beach," you may create the following title tag: "Top Dog Daycare in Daytona Beach | Company Name." For the best results, limit your title tag to 55 characters to prevent Google from cutting it off in search results and use your targeted keyword at the beginning.
Meta description
What is a meta description? Your meta description is your page's summary and appears in SERPs.

A meta description doesn't influence your on-page optimization directly. It's a feature that helps users, however, learn more about your page. The fact that Google will bold user search terms that appear in your meta description is another reason to optimize your meta description for on-page SEO.
Include your core and related keywords in your meta description for the best results. Your page about dog daycare in Daytona Beach, for instance, may use the following meta description: "Looking for dog daycare in Daytona Beach? Come to Rover's for dog daycare, dog grooming, and more!"
For the best results, your meta description should stick to 160 characters.
Heading tags
What is a heading tag? Heading tags break up content with H2s, H3s, and H4s to improve its readability.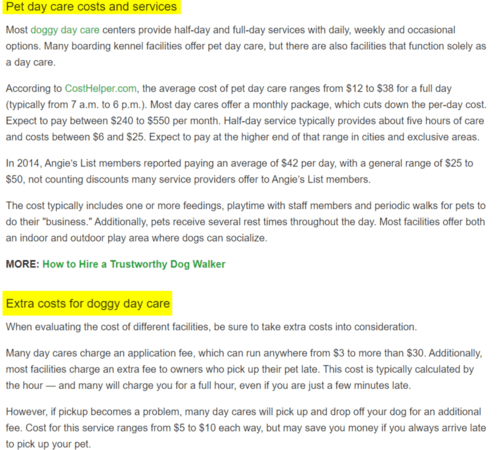 When it comes to heading tags, you want to use them for search engines and users. Use heading tags throughout your content to break it up and make it more readable and skimmable for users. You can also add your core or related keywords to provide search engines with more context for your page.
For example, a post about dog daycare may use the following headings:
What does dog daycare include?
How much does dog daycare cost?
How to find the best dog daycare
When writing your heading tags, remember to target your core keyword in your H1 tag.
Alt tags
What is an alt tag? Alt tags provide more information for multimedia, like images and videos.

Search engines can't see multimedia, so they depend on alt attributes to tell them what multimedia is.
For example, if you have a photo of an apple, your alt tag could say "red delicious apple." Beyond that, you can add descriptive names to the image files themselves so Google can get a better idea of your multimedia.
Always include an alt tag for your multimedia content. Besides Google, your alt tags also help users that can't see or interact with your content. Using alt tags makes your content accessible to everyone browsing your site.
Keywords
What are keywords? Keywords describe words used in SEO to target valuable user queries.

Each page on your site should include text content that discusses the page's topic.
Even pages that are typically not optimized, such as the "Contact Us" page, can help your business gain recognition online. Using keywords throughout the body text of your page helps Google read it and rank it appropriately.
You should research and compile keywords for each page on your site. Keyword research tools like KeywordsFX and Keywordtool.io can help you understand the keywords people research related to your products and services.
Look at helpful metrics, like monthly search volume and competition, to determine which keywords offer you the most value.
In most cases, smaller companies will focus on long-tail keywords or keywords with three to four words.
Long-tail keywords often have lower monthly search volumes, but they also have lower competition. It's typically easier to decipher the search intent behind long-tail keywords since they are more specific.
For example, if someone searches the short-tail term, "dog treats," it's hard to identify exactly what they want to find. Maybe they're researching the best dog treats for small dogs, or they might want to try a dog treat recipe.
On the other hand, if someone searches the long-tail phrase, "buy dog treats for puppies," you know exactly what they want to find — and that they're ready to purchase.
High-performing SEO campaigns contain both short and long-tail keywords — and the terms you choose to target will depend on your business and goals.
Content
What is content? Content provides users with answers and search engines with context.
Content is critical to on-page optimization.
With content, you give users a reason to visit your site.
Whether it's to read a blog post or check out a product page, people browse your content. Optimizing your content can help search engines understand and rank your content, which can lead to people finding your website.
On-page SEO for content revolves around the following practices:
Using your keywords in headings and paragraphs
Breaking your content into skimmable headings
Complementing your content with helpful images
Ensuring your content uses correct spelling and grammar
Making your content trustworthy and authoritative
In addition, you should regularly add new pages of content to your site so that search engines will see that you're active online. You can do this with new blog posts, landing pages, and other strategies that show Google you're hard at work for your customers.
Finding and removing duplicate content also improves your on-page SEO.
Duplicate content refers to blocks of similar content on multiple pages on your website — and it's undesirable for two reasons:
Google doesn't know which page to rank: When numerous site pages contain the exact same information, search engines won't know which page to rank in search results.
Duplicate content confuses site visitors: When visitors encounter duplicate content on your site, it can confuse them, and they may not know what step to take next. Duplicate content throws a wrench in your content funnel and prevents your audience from taking action.
Duplicate content is bad for on-page SEO, so make sure to regularly check your site for duplicate content and remove it.
Page speed
What is page speed? Page speed measures how fast content on a page loads.

With an attention span of less than the common goldfish, 50% of users will abandon a page if it takes longer than three seconds to load. People want information, and they want it now!
Search engines like Google also use page speed as a ranking factor. You can control your site speed and page speed, so you want to optimize your page speed. Make your website load faster, and you can rank higher in search results.
Use PageSpeed Insights to check your speed.
PageSpeed Insights will provide you with customized recommendations for speeding up your site. You can also follow some best practices for page speed, like compressing images, eliminating unnecessary website code, and more.
Internal linking
What is internal linking? Internal linking describes linking to and from pages on your website.

Internal linking often gets overlooked when it comes to on-page SEO. As your site grows, however, it's critical to develop an internal linking process. That's because internal linking helps crawlers explore your site, discover new content, and understand the context of different pages.
Having little to no internal linking on your pages negatively impacts the user's ability to access content on your site that is valuable to them. And if they can't access it, that directly affects your conversion rate.
Use internal links to improve your on-page SEO by:
Adding links to relevant, existing content in new posts
Adding links from relevant, existing content to new pages
Every internal linking strategy is different, but for the best results, you should make sure that every new page has at least two to three links to it. If you're struggling to find pages, don't force a link. Instead, consider creating pillar content.
You can check the status of your internal linking with a free tool like Screaming Frog.
Images
What are images? Images are a form of multimedia that helps people understand and skim content.

Images matter to SEO, as well as users. With images, you can break up your content. You can also provide context, like for complicated processes or difficult-to-describe features. Include images in your content, from stock photos to custom graphics to screenshots.
When adding images to your site, remember to compress your images. Oversized multimedia can slow down your page speed, which can impact your rankings. Remember also to add alt text, as this additional detail makes your website more accessible and can help with rankings in Google Images.
Be sure to also include usability features such as transcriptions for videos and alternate text for images. These are another great place to include your target keywords, and incorporating them can help make your site ADA compliant.
Mobile-friendliness
What is mobile-friendliness? Mobile-friendliness describes your site's usability on mobile devices.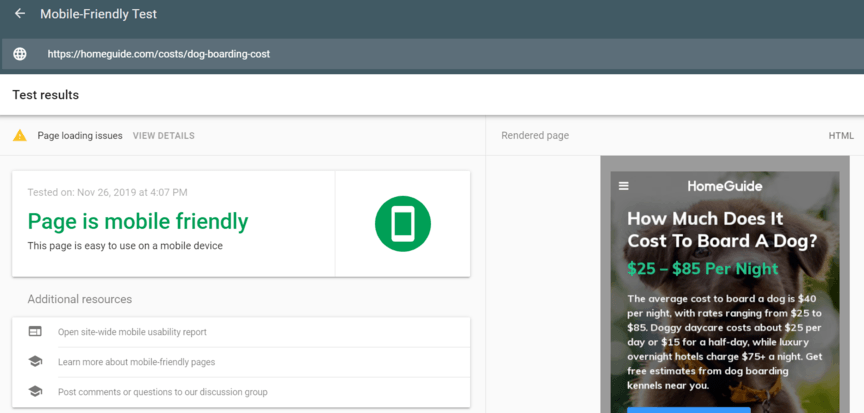 A mobile-friendly website is essential because more than 50% of the Internet's traffic comes from mobile devices. If people on smartphones and tablets can't access your site, your rankings in search results will go down.
Search engines like Google, for example, use mobile-friendliness or responsiveness as a ranking factor. This means, if your site isn't optimized for mobile users, you're missing out on valuable leads and revenue.
Mobile compatibility isn't a suggestion anymore. It's a requirement, especially if you want to rank well for your keywords. Google considers mobile compatibility when it ranks your website. Low compatibility = low rank.
On-page optimization for mobile-friendliness often focuses on developing a responsive site. With a responsive website, you have a single site, which makes it easy to update your website and add new content.
Use Google's Mobile-Friendly Test tool to check your site's responsiveness!
How to evaluate your on-page optimization
Now that you know about on-page SEO, you can evaluate your site's performance. You can either use a tool to audit your site or you can look at separate pages manually, depending on your preference. If you choose to look manually, you can use these criteria as a basis for on-page optimization.
Are you using keywords for every page? Have these keywords been delivering visitors? If they haven't been, why are you still using the keywords?
Are you linking pages on your site to each other? Could this be a way to help visitors get from one point to another with only a click or two?
Does your site load quickly? Or do some pages take a long time to load? If you're having problems, find out where the issue lies. A slow-loading website is something neither human nor bot visitors enjoy!
Does your site have fresh content? Has it been more than one or two years? Has anything changed or is it all still relevant?