You and your employees depend on your HRM software. Recode wants to be the host you depend on. That's why we offer OrangeHRM Web Hosting on our ultra-reliable servers backed by our 99.9% Uptime Commitment.
Orange HRM web hosting that will blow your mind!
OrangeHRM Optimized Servers
We've perfected our server infrastructure to use every drop of power at maximum efficiency. Get everything you need to launch a successful OrangeHRM website!
Why choose OrangeHRM?
OrangeHRM offers a scalable HRM solution for small and midsize businesses, that helps them to encompass the entire employment lifecycle, from onboarding to termination.
Simple and Flexible
Even if you're building your first website, the simplicity of OrangeHRM will surprise you. Set it up with a single click of your mouse and make a professional website with no coding knowledge!
Huge Community
Over the years, OrangeHRM has gathered a massive user base in every corner of the internet. Fulfil all your website needs and find solutions to any roadblock that you encounter along the way!
We have all you need to succeed with OrangeHRM
You can focus on what really matters. All servers are optimized with cutting edge technology to give you the most out of OrangeHRM hosting. We developed a custom control panel with loads of features to enhance security and performance!
OrangeHRM includes a full suite of applications for comprehensive human capital management: core HR, time and attendance, candidate recruiting, performance reviews, absence management, benefits administration and more. OrangeHRM can be deployed both on-premise or in the cloud and can meet the needs of companies in a range of industry, including real estate, banking, pharmaceuticals, insurance, education and others.
It provides role-based system access and permission levels for different sets of users. The PIM module allows businesses to capture employee details in a format suitable for auditing and reporting purposes. Additionally, it also provides tools to manage employee leaves as well as keep track of their time off requests.
Its functionality is backed by knowledgeable, professional support.
HR Administration
If you're wondering , "will deploying OrangeHRM add more work to your plate?" Worry no further. Because with OrangeHRM you're able to manage everything with a click of your mouse and have a system giving you more time to build a stronger culture.
Employee Management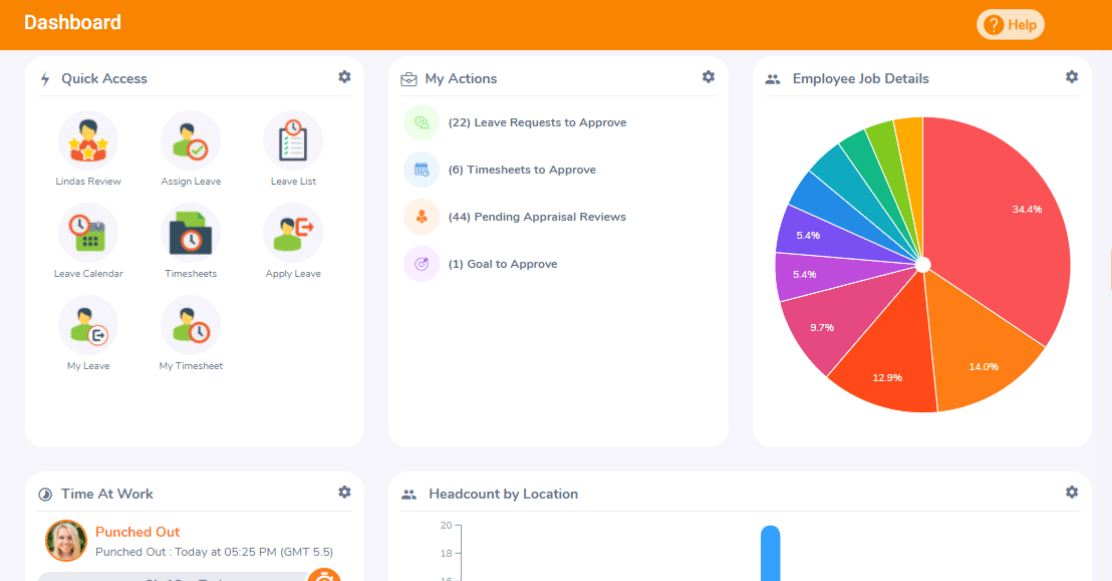 Sometimes the best way to support our employees is to set up a system that makes sense to them and just get out of the way. Giving your team an HRIS, can feel like giving the keys to your car to a teenager. But with OrangeHRM it's a no brainer because the user experience makes it so easy to use. Your managers and employees will love having this freedom.
PTO / Leave Management
Let's face it, the days of trying to manage PTO accruals and tracking leave/sick days is very outdated. But don't fret if you're still having to track it, you now have a tool that will do this work for you. It's going to give you time back in your day to set you free to help your people.
Performance Management

People matter to every organization and HR sits at the heart of that. Performance management gives you the eye sight to see who from your organization is struggling and those that are thriving. Get a 360 view of everyone and make strategic decisions that help the employees grow.
Onboarding
Onboarding should be something fun and exciting for your new hire and your team. You just accomplished a huge thing by finding the right person to join your company. Don't fall short and not have everything planned out, get organized so you can leave a lasting impression with OrangeHRM's Onboarding system.